so I am telling you something good and what I am thankful for!
You turned my wailing into dancing;
you removed my sackcloth and clothed me with joy,
Psalm 30:11
Even in my worst days, I am still thanking and praising the Lord for what He has done for me!! I am so happy now and so full of joy that it really seems weird sometimes. It's just something I am not used to, finally feeling peaceful. Knowing God is in control and that everything I do is because of Him, because He created me and has a plan for me! For ME! Isn't that cool? Even though I have no idea yet what that plan is, I am excited to find out!
For my tell me something good..
Today was just a long, hurried morning and Mad was a ball of energy since 6a this morning! We went to Story Time and when I got home there was a package for me! A week ago I entered a Bento Giveaway and I actually won!! I was so happy!! I got the package in the mail today and it really perked me up. Really got some cute stuff! You will have to go check out
My Mad World
to see what I got. Funny how the little things can just make me smile!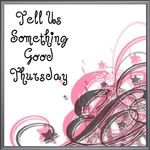 Pin It