I am a Christian and am doing my best to be a better one. I have always believed in God but didn't always do what was right, especially once I turned 18 and actually got to go out and do things. I strayed a bit off the path and once I was done partying and got married, I was trying to get closer to Him again. What really helped bring me closer was my cousin's little one year old son. He had cancer and was such a fighter. My cousin was so strong in her faith that it just amazed me. That really got me back into church and trying to be a better person and learn to lean on God more than anything. Don't get me wrong, I am definitely still a work in progress!
This is My Story
Baptism
This is what I have to say to that mean ol' satan. Thank you Karen for this!
"Go Ahead..bring it on.. because in the long run Satan you have to deal with my Father, His name is God..Remember Him.. He is the one who put you in your place back in the day, and keeps you in your place now!"
Our family picture in Jan 2010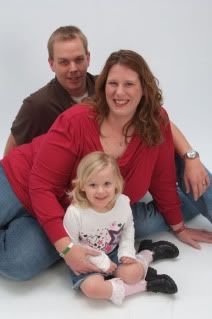 My loving husband Shane


Ms. Mad
Pin It